Renowned Filmmaker: 'If heaven is the way we saw it tonight, count me in'
PHILADELPHIA—Nathaniel Kahn, a renowned documentary filmmaker, attended the Shen Yun Performing Arts show at the Philadelphia Academy of Music on Saturday Jan. 2.
Mr. Kahns was at a reception held after the show and lavished the New York-based classical Chinese dance and music company with praise.
He said although he was made aware of the oppression of Falun Gong, an enactment included in the program, he felt that too little was known about its plight in China.
"We have to change it," he said. "I've always believed in my heart that art is the greatest way to change the world. Culture and art really is the strongest force that we have, stronger than any weapon. It's stronger than any ideology.
"It is just the ability of human beings to reach across the boundaries that separate different cultures, different peoples and say; 'We're all human together and we're all under the same sky, we all live on the same earth, the same planet. What's my experience, what's your experience? How are we different, how are we the same?'"
Mr. Kahn said he knew some of the stories performed on stage because of an interest he held in traditional Chinese culture.
"It is presented in a way, I felt, we have two sides to our brain; the left side and right side, and at first my left brain is saying, 'What's the story? I'm not quite sure what's going on' and your right brain takes over and says, 'this is so magnificent, so beautiful. I don't need to understand everything, it's just washing over [everything.]'"
In conclusion, Mr Kahn said: "All I can say is thank you so much for doing this as it's enormously important, and if heaven is the way we saw it tonight, count me in."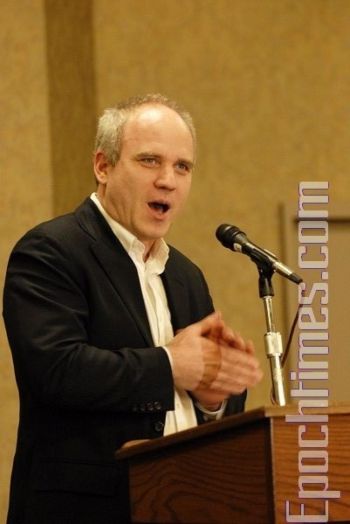 Mr. Kahn said he knew some of the stories performed in Shen Yun. (Joshua Philipp/The Epoch Times)