GPACC Members Give Presentations at 2nd Annual Atlantic City Chinese New Year Festival
On the afternoon of February 13, 2010, Atlantic City Public Library presented is 2nd annual Chinese New Year Celebration. Impressed by GPACC's 2009 participation, the library delegated Michelle Yu, member of GPACC, to plan the whole celebration program.
Students of the GPACC's Minghui School performed traditional Chinese dance. Several GPACC members demonstrated the ancient art of calligraphy and paper lotus flower folding technique. Local residents gave warm applause to the dancing performance and were delighted to learn about Chinese calligraphy and take a delicate lotus flower. Mr. Wang from University of Pennsylvania gave a lecture on Chinese medicine. People with interested in alternative medicine packed the lecture room and many questions were raised from the audience.
Ms. Frank, Event Coordinator for the library, was very grateful to GPACC members for their excellent presentations.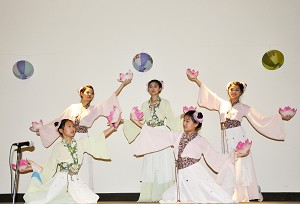 Minghui school girls present traditional Chinese dance
To read the full article in Chinese, please visit: http://epochtimes.com/gb/9/1/24/n2407972.htm